Στις 15 Απριλίου 2009, η Μπέσυ Τρίγκα, σε Παγκόσμια Πρώτη παρουσίαση, θα διδάξει το σεμινάριο Forrest Yoga με τίτλο"The City Warrior©". Η πρεμιέρα του ειδικού αυτό σεμινάριο, το οποίο έχει σχεδιαστεί από την ίδια, θα φιλοξενηθεί στο Μανχάτταν της Νέας Υόρκης στο γνωστό Στούντιο Om Factory New York City.


On April 15th 2009 Bessy Trigka will be delivering the World's First demonstration of her unique Forrest Yoga workshop, "The City Warrior©". The workshop which is conceived and designed by Bessy, will have its opening kindly hosted at the Om Factory New York City.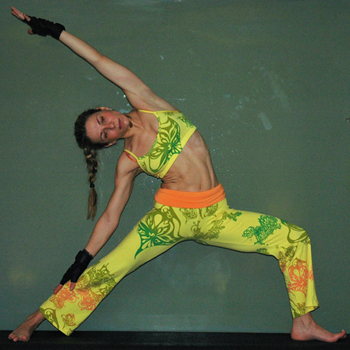 Below please read the relevant announcement from the Om Factory NYC:


Hi Forrest Yogis,
Om Factory is hosting a visiting Forrest Yogini from Greece on 4/15.
She will be teaching a Forrest Yoga workshop during my regularly scheduled Wednesday 6:30-8pm class.
I hope you can make time in your schedule to come as I've heard that she is an awesome teacher with a lot of Fire Energy!
PLEASE take a few min. to think of any students and friends who may be interested in attending and forward them this invitation!


Workshop: The City Warrior ©
(in the Battle for Inner Peace)
Date: April 15th 6:30-8pm
Price: $17 drop-in
Om Factory unlimited passes/class packs also apply
The City Warrior is a unique Workshop by Vassiliki-Bessy Trigka, a Forrest Yoga Instructor from Greece.
Description: The frenetic pace of the City and the tough times of the economy may skyrocket our stress levels and cause our bodies to harbor the lasting effects of negative experiences like pain, stiffness and blockages in our body. With this workshop, bring out the Warrior that you hide inside you and fight tension, wash away anxiety, and fade out internal blockages. Learn how to integrate the Strength, the Stability and the Decisiveness of a Warrior. By practicing the Warrior in many variations you can build consciousness and Became a Real Warrior in your Life!
- Charge your Senses –
Namaste,
Emily Conradson
Director, Om Factory Yoga Center
Om Factory Yoga Center
265 West 37th Street 17 Flr.
New York, Ny 10018
212 616 8662
emily@omfactorynyc.com
www.omfactorynyc.com
Namaste means:
I honor the place in you where the entire universe resides.
I honor the place in you of love, of light, of truth, of peace.
I honor the place within you where if you are in that place in you
and I am in that place in me, there is only one of us.
[n?m?s?teː].Taken literally, it means "I bow to you". The word is derived from Sanskrit (namas): to bow, obeisance, reverential salutation, and (te): "to you".